Decorating walls can be difficult and there may not be a wide range of stylish products to use. Vinyl flooring is becoming more popular as a choice for walls because it is affordable and easy to install. But can you use vinyl flooring on walls as a durable and functional option?
You can use vinyl flooring on walls to provide texture, color, or accent. This will give you a wider range of styles and options as well as durability. You can even use vinyl flooring in the bathroom or kitchen backsplash as long as you consider moisture and heat.
In this article, you will learn how to install vinyl flooring on walls and the benefits of doing so. In addition, you will also discover how much you can expect to pay for vinyl flooring installation on your walls and how to properly care for it afterward.
Can You Use Vinyl Flooring on Walls?
While it may sound strange at first, vinyl is a popular option for covering walls. It is an affordable option and there is no reason that it cannot work for adding design elements to your walls. There are some great benefits of choosing vinyl flooring, especially as an alternative to tile.
Homeowners often use vinyl because it can add texture and character. It is commonly used on walls as an accent as well. Many people combine vinyl with other materials like marble or tile to add a unique flair to their room. There are a few different types of vinyl flooring that can be used for walls as well.
If you plan to cover a large amount of surface area using vinyl flooring, you may find that a vinyl sheet is best.
This can be cut to size and is a great option for making a large project seem effortless.
For smaller areas, accents, and precise adjustments, you may find vinyl planks work better. Finally, there is the option of peel-and-stick vinyl flooring. This can be a good option for some areas, especially areas that are out of the way or do not have moisture or heat.
Whatever type you plan on using, there are some benefits of installing vinyl flooring on your walls that may help you decide if it's the right material for your home project.
Benefits of Installing Vinyl Flooring on Walls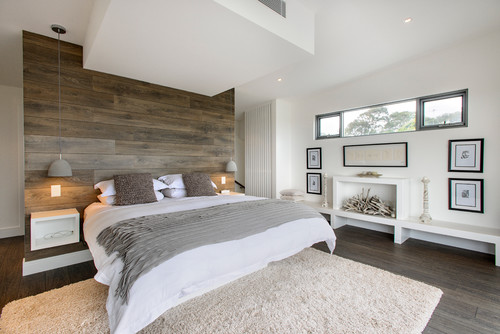 There are numerous benefits of using vinyl flooring on your walls. First, vinyl flooring offers a larger variety of patterns, styles, materials, and textures. You can use options that look like wood, marble, or elaborate tiling.
The options are virtually endless and you can combine them for a unique style that is only found in your home.
It is also very affordable when compared to other materials. Even ceramic tile, which is not known for being expensive, can cost substantially more than vinyl flooring. This is especially true if you hire a contractor or other professional for the tile installation, which brings us to a third benefit.
It is fairly easy to install vinyl flooring on your walls and it is a fun project for a DIY enthusiast. It is not messy and can be done at any speed. It does not require prior expertise and can be done with basic household tools.
Vinyl flooring is also notoriously easy to clean. No deep crevices for trapping moisture and gunk and many options do not show stains very easily. All you have to do is rub it down with a sponge or washcloth and a light cleaning product.
Finally, vinyl flooring is also very durable and versatile. As long as you care for it, vinyl flooring can be long-lasting and it is not easily damaged. As long as you take the necessary precautions and use the correct type of vinyl flooring, it can also be used on most walls throughout your home.
Can You Use Vinyl Plank Flooring as a Backsplash?

An attractive backsplash can bring a lot of personality to a kitchen and vinyl flooring is a versatile and stylish option regardless of where your backsplash is located and how much of it shows. It can brighten the room's appearance or provide an ambiance that may be difficult to achieve otherwise.
The material you use for a backsplash has to be durable and easy to clean, making vinyl flooring a perfect option. It is also more affordable than popular choices like marble or stone. Vinyl flooring comes in many styles that work well with the kitchen atmosphere without being expensive and hard to install.
However, there is an important thing to keep in mind when using vinyl flooring on your kitchen walls: heat. While vinyl flooring can typically withstand high temperatures, if your backsplash is located by your stove or oven, it is important to ensure that the product you use will not melt, deform, or become a safety hazard when the temperatures are high creep up above 90 degrees Fahrenheit.
Can You Use Vinyl Flooring on Bathroom and Shower Walls?
Vinyl flooring can certainly be used in the bathroom and there are advantages to doing so. You just have to make sure that the product you purchase is sufficiently waterproof. This means that you have to avoid peel-and-stick vinyl because the meeting points can allow water to damage or deform the flooring.
It is also best to use luxury vinyl flooring because it is the most durable, scratch-resistant, and thickest and will last much longer than cheaper flooring options, even on your bathroom walls. Since vinyl flooring does not have the grout and crevices found in tile, it can protect against premature deterioration.
Vinyl flooring planks can also help you prevent mold and mildew and it is much easier to keep vinyl clean than it is to take care of tiling. If you have ever had tile in your bathroom, then you know it can be a pain and begin to show discoloration quicker than you would like. Vinyl doesn't do that, plus it is much easier to install!
How to Install Vinyl Plank Flooring on Walls

So, you have decided that you want to use vinyl flooring planks on your walls in your bathroom, kitchen, or other areas of your house, but you are not sure how to proceed. Before we look at the steps for installing vinyl flooring on your walls, it is important to know what materials you will need for the project.
You will need:
Vinyl plank flooring (enough to cover the area)
Sandpaper (40 to 60 grit works well)
Utility Knife or Saw (table saw or hacksaw)
Screwdriver
Tape measure
Level or Chalk Line
Pencil
Adhesive
Gloves
Mask
Glasses
Primer (Optional)
Step 1:
The first thing you will have to do is thoroughly clean the wall. You want to make sure that the wall is dry and clean without bumps or irregularities that interfere with the adhesive. You can then sand down the wall to ensure that it is smooth. You can also add primer to make the adhesive stick better to the wall, but you do not have to.
Step 2:
Now, you can start preparing the rest of the area. Take off electrical outlet covers using your screwdriver and remove any other items or decorations on the wall as well. You can also use this step to decide if you want to install the vinyl flooring from the top down or vice versa. If you have crown molding, then it is best to start at the top. However, we have found that it is much easier to start from the bottom because it gives you a shelf to place all the rows on top of each other.
If you are going to start at the ceiling, you should start at the top left corner of the wall. For interlocking vinyl flooring, always make sure that the tongue of the plank is facing up toward the ceiling. If you are starting at the bottom and going up, begin at the right corner at the bottom of the wall with the tongue facing the ground.
Step 3:
Now for measuring to determine how many planks you will need. You can even do this step before buying the planks if you prefer. Measure the width of the wall and the width of the planks you are using. Divide the width of the wall and divide it by the width of a single vinyl flooring plank. This will calculate the number of rows that the wall will require.
You also want to allow about 1 ½ inch at the bottom between the last plank and the floor. This will allow you to accommodate any expanding and contracting with extreme temperature changes. Draw a line using a level or chalk line across to show your starting point if you are going from the bottom up.
Step 4:
It's time to start installing the vinyl flooring planks. Apply construction adhesive (you can see which types are best later in this article). You want to make sure the adhesive is even and sufficient to touch every part of the space between the wall and the plank.
You do not have to be very careful with the adhesive spilling onto the surface of the vinyl planks because it is easy to wipe away. Just make sure that you clean the adhesive off before it completely dries.
Press the plank firmly against the wall starting at the ceiling or where you drew a line 1 ½ inch above the floor. Hold for a few seconds until it is stable. Now repeat with a second plank while ensuring that the two planks do not have any space between. If you have interlocking vinyl planks, make sure that the system is secure. Do this across the wall in a row before moving to the next row. Continue moving across one row at a time until you finish the wall.
Step 5:
You may find that it looks best if you stagger the rows so that there are no lines straight up the height of the wall. To do this, you can either start from the opposite side of each row or cut 2 to 3 inches off the first plank for each row on the bottom right corner.
For cutting the last row or cutting to stagger every row, you may be able to use a utility knife. This can cut a groove into the vinyl flooring plank so that you can snap it into two pieces. However, that is not the most precise way to cut the planks. For exact measurements, it is best to use a hacksaw or table saw to cut to size. You can also use sandpaper to even out the edges.
Now that you know how to install vinyl flooring planks on your wall, you probably want to know what adhesives work well and how to keep your vinyl walls clean and well-maintained.
What Is the Best Adhesive for Vinyl on Walls?
Vinyl flooring needs to be secure when you install it on a wall and the best adhesive for this purpose is
contact adhesive
. A contact adhesive creates a rapid bond that is permanent and strong. It is also easy to use and non-damaging.
Contact adhesive is also a very manageable type of glue. You can even purchase contact adhesive products that are easy to paint or roll onto the backside of your vinyl flooring planks. You do have to make sure to get a contact adhesive that has a strength that works with the weight and thickness of your flooring planks.
Also, avoid any adhesives that require evaporation for strength, like those with water or solvents. You also want a glue product that does not weaken or deteriorate with excessive moisture for the bathroom walls.
How Much Does It Cost to Install Vinyl Flooring on Bathroom Walls?
Vinyl flooring costs can vary significantly depending on the thickness, style, and other features. The flooring itself will usually cost somewhere between $2 and $4 per square foot. If you are doing the project yourself, then the only other costs you need to worry about are the adhesive and any tools you do not already have (and primer if you plan on using it on the walls before installation).
If you plan to hire someone to install the vinyl flooring on your walls, you will pay much more. You can expect to add somewhere between $3 and $5 per square foot to the cost of the supplies. This can increase if the project is more complicated as well.
How to Care For Vinyl Flooring on Walls
After you install vinyl flooring on your walls, you need to make sure that you take good care of it to last and remain attractive for years to come. There are some general care tips regarding vinyl flooring and information related to using flooring planks on walls.
First, some vinyl planks can become damaged or bleached in constant sunlight. If you install vinyl on a wall that receives a lot of sun, it is best to take the necessary steps to ensure that the sun is not direct. This probably means installing curtains or blinds. There are also UV-protected vinyl plank products that will resist fading more than other types.
Your walls are inevitably going to get dirty at some point and you must clean them properly. You only want to use mild cleaners and non-abrasive cleaning supplies that will not scratch the surface or leave marks. While there are plenty of safe cleaning products for this purpose, you can also use a vinegar and water solution.
For actual stains, then you want to clean the area as soon as you can. This will usually only require a cloth or rag and a small amount of water. If this doesn't work, you can use a little vinegar with warm water or a mild detergent.
Walls can also become scuffed, but these marks are often easily eliminated from vinyl. For small scuff marks, you can even use a pink eraser. If that doesn't work, you can create a paste with baking soda and water that will fill the mark. Let it sit for 4 or 5 minutes before wiping the excess away.
If you still have issues removing the scuff marks, you can also purchase specific products at your local hardware or home supply store or order some online. Just make sure that you check that it will not damage the type of flooring that you picked.
Conclusion
Vinyl flooring planks are becoming a popular option for walls, especially as an alternative to tile or to add personality to your home. It is also affordable and not too difficult to install and can even be used for a kitchen backsplash or bathroom and shower walls. Just be sure to measure properly, use the right type of adhesive, and care for it after installation.